With all the winter clothing being phased out and lightweight, colorful spring window displays coming in, it's now that sad time of year during which you want dozens of lovely new things, which cannot be practically (or fashionably) worn for another couple of months. Yes, we know that summer-weight argyle cardigan in pink and green will be on sale come April or May, and yes, we know that it'll look ridiculous with tweed pants and black wool car coat... but we still want it.
Enter: the wish list. After an afternoon of shopping, I encountered many pieces which are not only springtime delicious and not ready to be worn yet, but also fairly pricey. The prices often gave me the strength to not buy the pieces, but when the weather gets to 60 and sunny, I might not be able to hold out for much longer.
So here are a few pieces which I love, I covet, and I am determined to own.
By May, at the latest.
Vineyard Vines twill skirt, $68
J.Crew links print mini, $72
J.Crew hula hoop print strapless dress, $130
J.Crew cashmere shrunken polka-dot cardigan, $178
Vineyard Vines Falmouth Fleece, $175*
Lilly Pulitzer Jacqueline dress, $398
J.Crew leather Capri sandals, $49.50
Coach leather and straw clutch, $500**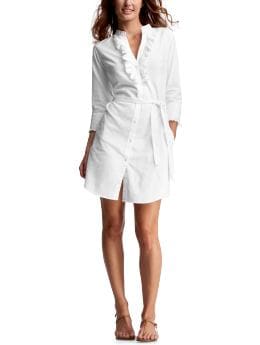 Gap ruffle-front shirt dress, $69.50
* The most current-weather-apropos item here
** For the record, I would never spend $500 on an orange straw clutch. But it is pretty to look at.

Cheers,
Hayley

PS: What's on your wish list?