Coming in a close second to New England Private College Academe, Nautical-themed clothing is one of my favorite motifs. With clothing pieces or adorable accessories, adding some sailing-inspired touches makes me feel polished and, maybe because nautical clothing reminds me of the water, slightly more relaxed. Yet clean and traditional.
However, my love for maritime pieces is a double-edged sword, because, in searching for the right brass-detailed canvas bag or nautical flag belt, I come across pieces like this:
I guess this is what it feels like when Nomar would gaze upon a pink Sox jersey. With his name on it.
My point is that for every great, subtle nautical item out there, there are ten trashy, exaggerated pieces to be found in teenybopper discount stores and trying-but-failing-to-be-ironic "skater" stores. The nautical look is a perennial spring favorite, and with the warmer months right around the corner (at least in the fashion world), it's the time I can start looking for pieces that satisfy the sailor I am (from April through October).
Below are options I've seen (and maybe bought) that are subtle, classy, and maritime-inspired but not too Jack Sparrow. They vary from function to upscale, but all have one thing in common: Connecticut Girl approval for wearing nautical fashion without looking like an ass.
Enjoy!
These sandals represent the dressiest end of the nautical spectrum. Strapped with navy and white canvas (THE sailing color combination), and brass details, these should be paired with a simple sundress and lightweight clutch. And in the traditional, clean-cut nautical style, please keep the brass in mind when picking jewelry - this is when you match metallics.
These nautical flag flip flops from Vineyard Vines are the comfiest nautical shoe you can find (sorry, Sperry!) and add a marine effect to khakis and a polo. The pedicure is necessary but should look effortless. Nothing flashy!
The most functional piece here: the summit-to-sea fleece. For layering on the boat, and wearable with Nantucket Reds (see below) or jeans on a cold Maine night. Monogramming steps it up one more notch, as does a jacket from a club or school (mine: picture this fleece, but ribbed and with the BEYC logo stitched on the front placket. Love.)
This JCrew hooded beach tunic is actually swim wear cover-up, but with a tank layered underneath, some Bermuda shorts and the St. Tropez slides (below), it's a great casual piece that is lighter than a jacket but the long sleeves keep you protected from the breeze, and the sun.
The effortless appeal of these St. Tropez slides, and the number of colors they come in, aren't purely nautical, per se, but evoke a definite coastal vibe, and would help temper an anchor-print piece to keep from motif overload. They work with jeans, khakis, skirts, dresses, capris... find something they don't work with (besides gauchos - ick) and I'll give you a pair.
Another piece which isn't obviously nautical, but lends itself to the maritime theme is this sun pendant from Tiffany & Co. The shape of it resembles a helm, but it is actually a sun, which makes it a subtle addition to a nautical outfit. This pendant is best paired with silver or pearl studs - nothing dangly or flashy. Be careful not to mix metallics.
Lilly Pulitzer, originating in Florida and embracing the resort life, provides several pieces that qualify as subtly nautical. This Bermuda bag is reversible, and the crab pattern is beachy but not obvious (like an anchor or sailboat). The wood handle and Lilly palm contribute to the summery, coastal feel of the bag, and its lack of bells and whistles lets it fit in well with most pieces on this list.
This tote bag is from nautigear.com, and will appear nautical to those fortunate enough to spot a bag made of recycled sailcloth. Yes, all items from the website are handsewn out of recycled sails, so they are all somewhat unique. And waterproof. The cut and placement of the numbers and stripes is subtly nautical, but at first glance to some, will look "athletic." Don't worry. The right people will know.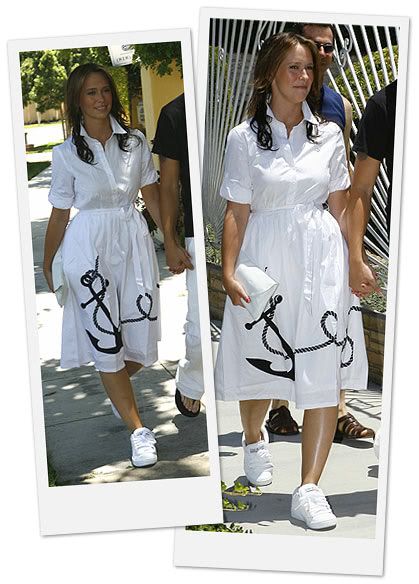 I'm so very sorry I couldn't find a better picture of this skirt. Heavens knows JLH isn't rocking this the way it's meant to be, white Reeboks and high waist and all. This is a skirt, not a dress, and it's by JCrew, and when worn with a simple red or navy cardigan and slides or flats, is the chicest nautical you can do before venturing into borderline-overboard zone. Make sure the length is flattering and the rest of the outfit is simple. One focal point is best.
These pants are not pink. They are Nantucket Reds, available originally only on the island of Nantucket, but have ventured into the mainstream somewhat. This is another item that might be mistaken for simply preppy, but to those lucky enough to own a pair of these pants (and have experienced Nantucket firsthand, naturally), they'll recognize the timeless appeal of these beach and golf course-appropos pants. Also available in shorts and skirts, but I prefer the tradition.
This striped cashmere top walks the line between "sailor" and "French," so temper it with a bright red skirt or white linen pants. One pop of color would be great, in the case of the white, either with a headband, Bermuda bag or flat sandal.
When you want to do nautical at the office, the high-waisted white sailor pant is a sure bet. Let the buttons show and tuck in a navy shell, and finish it off with simple jewelry and cute flats or simple wedges, if decorum allows. This is also a dressed-up look with a fitted blazer. But the waistline and buttons make a bold statement, so tone down the sailor look in the rest of the outfit.
Ah, Sperrys. Not only the quintessential boat shoe, made so it molds to your foot and doesn't scuff the deck, but also so comfortable and subtly nautical that it can go with any casual outfit. These have leaped into the trend zone lately (walk into any Connecticut high school), but they have longtime been a seaman staple, and when the trend fades, the function and association won't. LL Bean makes good boat shoes as well. If you pair them with a skirt, make sure your legs are sufficiently toned. They also make for great rain shoes.
Some general DOs and DON'Ts for nautical style:
DO keep the color palette simple. Navy, white, tan leather, red, yellow and the occasional green or pink.
DO keep the patterns simple. Horizontal stripes, small polka dots on occasion, and embroidered motifs should be used in moderation.
DO match metallics. When in doubt, wear the pearls.
DO match the hair and makeup to the clothes by keeping them classic, subtle and effortless-looking.
DON'T buy anything labeled "nautical" by stores like Claire's, Forever 21, H&M, and the like. This theme is easily ruined by cheap materials and construction.
DON'T overdo the anchors. They should appear on one piece of clothing or accessory, and that is all. Insert obvious "overboard" joke here.
DON'T wear jeans. They're fabulous for so many other venues, but they're not the summeriest of pants (when sailing is traditionally done, at least in New England). Not to mention getting into cut, wash and length gets complicated and they can clash with the navy.
DON'T pair any fabulous nautical pieces with sweatpants, PJ pants, or evening wear. This style is neither uber-casual or formal. That combination would leave you dead in the water.
Like G&Ts, bacon and swearing, nautical style is best done in moderation. This ensures that you avoid looking like an overzealous sailing virgin, a tourist from Nebraska in St. John or a teenager that heard "nautical" is the new "pop-punk."
Happy tacking!
Cheers,
Hayley