After watching a few throwback episodes from one of my favorite shows of all time, "Sex and the City," I decided to write an entry about the way the fashion on this risque, amusing and visually delightful show influenced my personal style.
There were many hits, and even more misses, across all the characters, but Carrie was undoubtedly the one who more often confused "edgy" with "tacky." And Charlotte had the most classic style which could translate to most any city in the country, without looking too "couture."
Four characters, four distinct personalities and styles, and four major lessons learned. Enjoy!
Character
: Miranda Hobbes
Played By
: Cynthia Nixon
Persona
: quasi-lesbian corporate lawyer with a penchant for menswear, with an unexpectedly feminine side.
To look simple, yet chic, clean black-and-white with one piece of bold jewelry goes a long way.
If you must wear a conservative suit, have fun with interesting necklaces and earrings.
Great skin, sometimes, is the only accessory you need.
What colors work with fair skin and light eyes.
For effortless elegance, take the little black dress in your best neckline and hem with tasteful jewelry and sleek hair. Job well done.
Miranda Hobbes Lesson
: How to look stylish while playing by the rules.
Character
: Carrie Bradshaw
Played By
: Sarah Jessica Parker
Persona
: neurotic columnist with unexplainable disposable income, blown on gorgeous shoes and sometimes catastrophic wardrobe choices.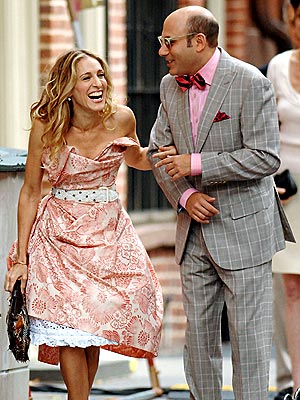 Full skirts are undeniably feminine and flattering on everyone. Gay friend optional.
Shoes don't have to match your outfit, and shouldn't, much of the time. In fact, it's a lot more fun to (as Stacy London puts it) "pop" an outfit with a bright shoe.
A little on the crazy side, but the tulled skirt, oversize cuffs and round-toe white pumps add up to this: temper a wild piece with clean black and white.
The easy sexiness of tousled waves. Also, that I should do more cardio.
When it's just plain overskill.
Carrie Bradshaw Lesson
: Take risks, just take them one at a time.
Character
: Samantha Jones
Played By
: Kim Cattrall
Persona
: professionally and sexually aggressive PR executive whose personal style parallels her wild romps in the sack.
Trying unexpected color combinations can create fabulous looks, especially with sexy silhouettes.
And doing neutrals with metallics just as well, she occasionally goes for understated, executed flawlessly.
The best looking woman in this picture, what I want my body to look like in 20 years, and how blondes should channel Marilyn Monroe, without being too literal.
How to make eye contact with the camera, and be the center of attention among three other beautiful, black-clad women.
Even when taking it a bit too far, personal style is invaluable. Even in this getup, she looks so "Samantha" that there's no way she's not working it.
Samantha Jones Lesson
: Confidence is the best accessory.
Character
: Charlotte York
Played By
: Kristin Davis
Persona
: Blue-blood art dealer with an intense desire for love, marriage, and $1,300 china.
How to keep it simple, yet look sexy, especially with a subtly red peep-toe.
How to dress modestly without looking too prim.
How brunettes should wear yellow. Eat your heart out, Belle.
How to dress sexy, without toeing the line of sleazy.
How to simultaneously look current and unique, as well as timeless.
Charlotte York Lesson
: Ladylike is beautiful, and classic is chic.