There are a few things areas in life at which I am definitely inadequate: remembering birthdays, bleaching whites, keeping my checkbook current, shopping wisely and making my bed, among many more. I still have a lot to learn in my career, have no idea if I want a family or how to raise one, don't know what an annuity is, forget that doctors exist for long stretches of time, and sometimes say the wrong thing with the right intentions.
But I am the
Michael Phelps
of spending Valentine's Day as a single girl. (Ooh, swimmer body...)
It's not that I'm a spinster; in fact, I have more dating experience than several of my friends, and it's the "going to jazz clubs together" kind of experience, not the "going to the keg together" kind of experience. But it happens that I have spent many V Days single, due to bad timing or a drought in the dating pool. So it has come to no surprise to me or my wonderful female family and friends that I am an expert on how to handle this over-commercialized celebration of what should be love, but is actually a man's ability to drop hundreds on cheesy lingerie, and a woman's desire to have money wasted on gifts she'll never wear/eat/massage into her skin.
I used to grapple with Valentine's Day, being one of the angry, semi-emo single people who curse Hallmark and Hershey, but I have since grown to take this holiday for what it is: an opportunity. For people in relationships, the day is an opportunity to shower an unusually large amount of affection (okay, presents too) on their significant other, and remind each other of how happy they are (hopefully). For single guys, it's just another day to eat nachos and drink beer. For single girls, in my opinion, February 14 is good day to work on and celebrate
you
.
I spend Valentine's Day taking care of myself. I always go to the gym, I always eat mostly healthfully, and only rarely do I feel self-pity. (It's hard to avoid it completely) I love to go shopping, because there are lots of winter items on sale and spring preview pieces to cheer me up. I also love to watch a romantic movie that feels more delightful than dreadful - "When Harry Met Sally" is a classic. But whatever your poison, this year, make Valentine's Day about spoiling yourself. You don't have the burden of trying to come up with something exciting/romantic/funny/original/affordable for someone else, so make it a day for yourself.
I strive for a 90/10 ratio of a healthy Valentine's Day (mentally and physically). I treat it like a normal food day, and make sure to go the gym for that 10% that usually consists of chocolate and a glass of wine. Being a Thursday this year, I have less creative time due to work, but I plan to go to work, get a fancy latte at lunch, go to the gym, go shopping, eat a healthy dinner, and watch a good movie or two. Below are some of my favorite things that are exciting/romantic/funny/original/affordable (or not), which are somewhat love-themed, but remember, these purchases are for you. Do stuff or buy stuff that will make you feel pampered, stylish, fit and sexy. And remember, loving yourself comes out in the way you interact with others, so think of these pampering gifts as investments in your romantic future, exponential booms in self-confidence aside.
Pick up a salt- or sugar-based scrub in a soothing scent, and use it in the shower (morning or night!). Your skin and mind will thank you.
Who doesn't love a big, flashy cocktail ring? Wear it when you're out for cocktails, and keep looking stylish, even here in the dead of winter.
Cher did it, and you can too. Buy or send yourself a beautiful bouquet of flowers that will add cheer and fragrance to your office or bedroom. I do this on a regular basis anyway, and step it up with a bigger arrangement for February 14.
Get a manicure in a bold red. Short red nails are sexy as hell, and it'll help you get a head start on the weekend.
Going to the gym = you can have a little candy. I love Cadbury Creme Eggs for a few reasons: they remind me of being a kid at Easter, they are delish, and they are built-in portion control. They key to enjoying the candy is earning it at the gym, and then keeping it small. It's a fine line between sweet indulgence and guilty gluttony.
Pretty umbrellas almost make you wish for rain. This is from Vera Bradley in Mod Pink, and is currently on sale! Another item to remind you about spring coming up.
Not all heart jewelry is tacky, played-out, or only meant for wives and girlfriends. This dainty Paloma Picasso heart from Tiffany is affordable, subtle and not on the necks of every sorority girl in the country yet.
There's nothing like an adorable bikini to keep you on the elliptical. Shop resort and spring collections to keep your motivation up, and your hands out of the fridge.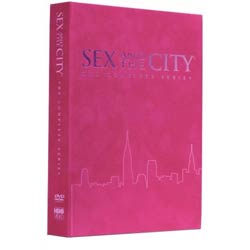 The quintessential show about single girls. I have spent a V Day or two watching these DVDs all day, and very few episodes make you actually wish for a relationship.
It's soft, pink, plaid, expensive, and still wearable. A Burberry scarf is a big indulgence just for 2/14, but if you've always wanted one and have been good to your credit card, this might be the time.
Moisturizing keeps you looking young and smelling great. Velvet Tuberose by B&BW sounds old-fashioned, but it's perfumey (in a good way) and smells better on skin than in the bottle. The body cream is a great formula for winter.
A love movie so over-the-top visually and dramatically that you can't take it too seriously. "Moulin Rouge" has music, comedy, tragedy, and gorgeous sets and costumes, and I love watching it with said candy and wine.
For the record, you do not have to have a reason to buy tall, satin, red, bow-adorned stilettos at any time. But if you're a single girl, you can blow your disposable income on just you, and grab a pair of shoes that will be ready for your next fancy date. These chic and gorgeous pumps can make anyone feel confident and sexy. And we don't need any holiday to want to feel like a supermodel.
Happy Shopping, Happy Valentine's, and Happy Me!
Cheers,
Hayley