Fashion in 2007 was a hit-or-miss melange of throwbacks, odd new trends, and classy new silhouettes. The '60s and '80s both had revivals, resulting in a strange and sometimes hideous mix. But when blending subtle trends with classics, 2007 was a fun time to be en vogue. I've narrowed down the trends to the Top Five Best, Trickiest and Worst Trends of 2007.
If you read below and find that you were a victim of a 2007 trend, fear not. A New Year is just around the corner, with surely many opportunities to look chic and fabulous. And to get your inspiration, keep coming back here for my updates on new looks for Spring, as well as What To Wear for certain events and locales.
Happy New Year!
Best Trends of 2007
1. Ladylike Footwear
Flirty peep-toes, demure round-toe pumps, sophisticated flats... No matter the heel height, color or price tag, women in 2007 had lots of fabulous options for shoes. Many of them came adorned with bows, buckles, studs and stones. Luckily, it looks like these polite heels and friends aren't going away any time soon.
2. Pencil and Tulip Skirts
The classic pencil skirt spent 2007 brought up to speed with sexy silhouettes, new materials, and updated companions. With a cropped jacket, a traditional twin set, an Oxford and vest or a satin blouse, the Sexy Secretary look was never so much fun. The tulip skirt was a new idea, and as long as you didn't have Hudson Hips, looked delightfully girly and ladylike.
3. Nature-Inspired Jewelry
The best 2007 representative from the decade that most often stands the test of time, the '70s, jewelry featuring leaves, wings, horns, and even acorns, adorned the collarbones and earlobes of celebrities and fashion-enthusiasts of all ages. In gold, silver, or precious stones, this look was exceptional for summer and fall, and while has fallen out of the mainstream for now, should make a return in the not-so-distant future.
4. Dramatic Coats
New necklines, varied sleeve lengths, and bold details like large buttons, sturdy belts and out-of-the-ordinary pockets made shopping for coats in 2007 almost as much fun as shopping for shoes. Hope you have enough closet space.
5. Dresses Go Everywhere
Prim and proper shift dresses and mod sheaths made a comeback in 2007 with added layers of turtlenecks and Oxfords. We also chose from party-girl minidresses, nouveau kimonos and cozy sweater dresses. Keep those legs fuzz-free, and enjoy one of the easiest (and prettiest) ways to dress for a woman.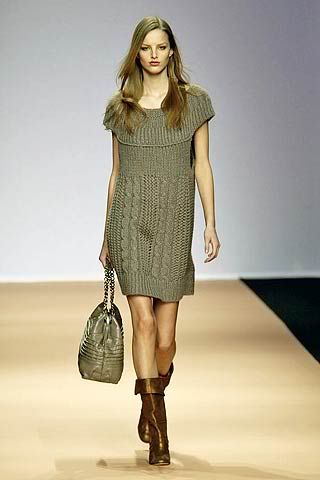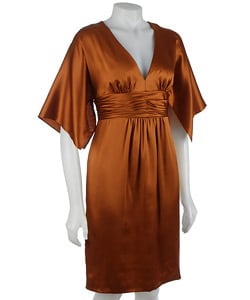 Trickiest Trends of 2007
1. Swing Coats
With their boxy construction, roomy fit and often cropped hemline, swing coats were very much hit-or-miss. On a small frame, with jeans or the right trousers and some upper-length gloves, it was a runway-to-real-life hit. But beyond a B cup, this tempting trend made you appear several sizes larger than you are, and created the not-so-attractive big-but-flattened-breasts look.
2. Fuzzy, Furry Boots
The ubiquitous Ugg and overkill Mukluk examples aside, the last year or two have brought warm, comfortable boots of varying heights to the masses. Obviously the coziness factor make them attractive, and paired with snug jeans, cute sweaters, and casual winter accessories, they can look delightfully Aspen. But they cannot be dressed up, they cannot be too short, and they cannot be pulled over your gray, saggy-assed leggings.
3. Skinny Jeans
Often the companion of Fuzzy, Furry Boots or (hopefully) bold flats, skinny jeans were the major contribution of the 80s, my least favorite fashion decade. On a small frame, they looked edgy and hot paired with skinny heels or riding boots. On women larger than a size 6, regardless of shoe, they created the Ice Cream Cone Effect: a large, round torso on top of skinny, tapered legs, ending with a small ankle. Or even worse, a large ankle.
4. Bermuda Shorts
A longtime prep favorite, Bermuda shorts came back this year with several incarnations: the "formal" short, the walking short, and the cropped pant neighbor. These were flattering on many girls and women, especially with cute wedges or embellished flat sandals. A couple of pitfalls that nabbed many a clueless victim: improper hemline (makes or breaks the look, literally), bad choice of shoe (they are NOT meant for sneakers, ratty flipflops or booties) or unflattering color/pattern (if you have child-bearing hips, pink-and-green plaid Bermudas won't do you any favors).
5. Tights
Tights made a comeback in the fall, often coupled with pencil skirts or layered dresses. These can be very fresh and chic, as long as the following are avoided: florescent colors (we're not literally back in the 80s), distracting patterns (leave the houndstooth for your scarf) or solid white (are you a registered nurse?).
Worst Trends of 2007
1. Leggings
If a piece of clothing is de rigeur for Lindsay Lohan, that should raise a red flag. Leggings returned as the worst 80s throwback, paired with sweater coats, kimonos or, horror of horrors, t-shirts and sweatshirts. No matter what shoe, what top, what color or how much cash you dropped on them, leggings were never a good idea, unless under ski pants.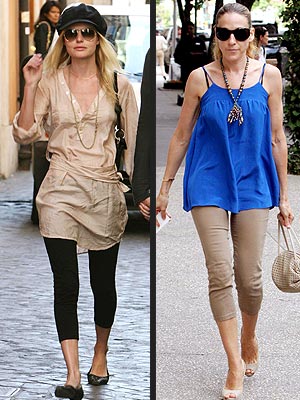 2. Tent Dresses
60s mod wasn't always chic. Case in point: the billowing, flowing, shapeless tent dress. Yes, Sienna Miller pulls it off. But she's 110lbs. And an actress. Living in London. This trend was not for chubby high school girls or 40-something mommies trying to stay hip. Or anyone. It's a hop, skip and a jump away from a muumuu.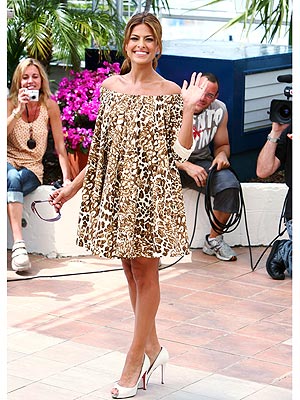 3. High-Waisted Pants
Skinny or wide-leg, high-waisted pants were best left on the runway. The only people who should wear their pants that high are old men who make corny jokes and gesticulate with their canes. And let us not forget their frumpy cousin, Mom Jeans, and the inevitable offspring: the camel toe. Not a good situation.
4. Black Nail Polish
Chanel Black Satin or not, black nail polish should be reserved for angst-ridden teens who have picnics in the cemetery and write bad poetry. I'm all for a Midnight in Moscow, or Vamp, but straight-up black is just too-too.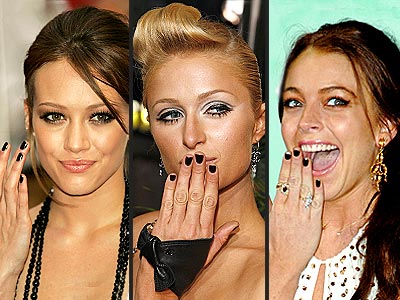 5. Booties
In high school and parts of college, I had platform Oxford shoes that I loved. They were brown or black, had moccasin details or a buckle, and looked academic without being too schoolmarm. Well, the Bootie of 2007 was more than schoolmarm. It was pilgrim. Cutting your leg off at the ankle, giving your foot a stacked heel with a round toe and possibly even tying up, the booties were almost always a miss. Pants, skirts, dresses, habits... just say no.
Hopefully this year, you spent minimal beans on 2007 trends, for better or worse, and spent most of your allotted shopping dollars on classics that will last. Coming up soon: the best possible outfit for many different scenarios including high tea, a Saturday night date, a business lunch, a day on the boat and apres ski.
Cheers!
Hayley