Cardigans have always been one of my favorite wardrobe components, because of their versatility, classic appearance and ability to work in any season. I have my pink RL one with pearl buttons, the navy/white rugby striped long cardigan for when I want to feel cozy, and my trendier ones to dress up for work or down for weekend.
This post is dedicated to new ways to dress with a cardigan. Included are very casual ones you might see on a coed walking to class, as well as professional looks for the office and multiple permutations for cardigans on the weekend.
Enjoy!
Belt a lightweight cardigan at or slightly above the natural waist. Gives you some shape, adds a punch of color, and dresses up with pants or a dress.
The new cardigans are straighter and shorter than in the past. Swing shapes and cropped styles can look very chic, with embellished camisoles or long tanks underneath. Temper the trend with classic trousers, or embrace the now-ness with skinny jeans and heels. I prefer the former.

Long, cuddly, comfortable cardigans can be very sexy. Two important rules: they must be paired with slimmer, tailored bottoms, and if the sweater is of the "chunky" variety, or you plan on wearing it closed, it must be belted to reassure everyone that, yes, you are a woman, and no, you are not expecting.

Wear a cardigan over a dress, and be creative with the color and pattern combinations. For the most figure-flattering shape, the sweater should hit at your natural waist or higher, be structured to show your waist, or be belted to avoid too much volume.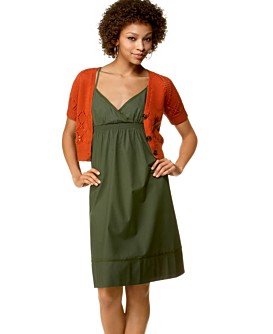 Two looks that never go out of style: clean, buttoned cardigans layered with an Oxford or shell. To avoid the twin-set look, mix up the colors and add fun jewelry.

Sometimes, a cardigan with little to nothing underneath is sexy, while still being somewhat reserved. Be careful with this look: not too much cleavage, keep the fit snug, and keep your audience in mind (boyfriend = good. Sociology 105 = bad.)
Cheers,
Hayley
PS: For more great cardigan combinations, see my JCrew "Ciao Roma" post below.