Around 2006, a new trend was introduced: the "formal short."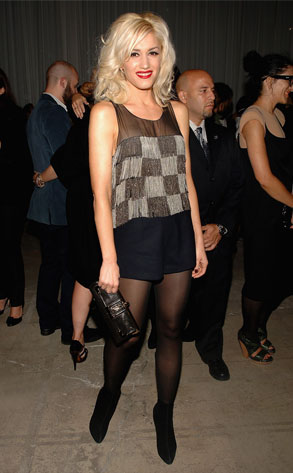 Don't get me wrong, now - I adore Gwen Stefani's daring style. And there is definitely something to be said for a
woman who wears serious heels while pregnant
. However, I wouldn't ever wear shorts on a red carpet, to a wedding, or an important work meeting. And I don't embrace them as a component of the "new suit."
But one fantastic by-product of this begone trend was the re-introduction of longer, more sophisticated shorts into the mainstream. I don't speak of capris, which tend to make women look stumpy, and remind me of the 50s. And I don't speak of the bastard child in the short family known as
culottes
. Blech.
I speak of the tailored, structured, modest-length walking shorts that elongate women's legs, serve as transition pieces between seasons, and are not uber-casual, nor expected to fly at the office. These great pieces are both modern, and yet classy, as by definition, they have a considerable inseam, unlike
shorts favored by some of my 20-something counterparts.

But often, women don't know what kind to buy to flatter their figure, nor how to dress with them. I will focus this post on what to wear with the shorts, and give a few basic rules that will flatter most shoppers. However, try on everything and be honest with yourself.
1. Go for straight cuts, hitting at or slightly above the knee. This length will show enough of your knee and calf to be more flattering than clam-diggers, but will also cover up any biz-ness you want to cover in your thighs.
2. If you're going for a higher hem, opt for looser-fitting styles. These keep the shorts from venturing into mom-short territory. They also will be more flattering to your thighs, and evoke more of a skirt feel.
3. Wear the proper shoes: heels, wedges, or knee-high heeled boots. Unless you have wiry legs, flats will combine with long shorts to make your legs resemble tree trunks. Obviously, the knee-high boots should be leather, and in a neutral color to temper this more daring combination. There will be absolutely no: Uggs, Converse, booties, or loafers. Flip-flops work only in summer, and only if you have flats-worthy legs.
4. Long shorts that venture into the capri zone can be very flattering and sexy. To pull it off, make sure the cut is straight, the hem doesn't venture below the knee cap and you rock the heels.
5. Use color! Bright shorts look refreshing and chic with dark, neutral tops in classic cuts.
Here are some great photos of shorts of different cuts, with varying pieces on top. Take notes - the cardigan-and-shorts look will be big this spring. (My apologies from re-using JCrew pictures, but the shorts looks are just so great, I had to.)
Layer a sweater and Oxford with shorts of any length, for a polished, modern prep look.
Neutral, feminine sweaters and tops temper patterned shorts, and make a great casual weekend ensemble.
Fitted blouses look great with patterned shorts, and lightweight materials give you coverage without warmth. Put the darker color on the half of your body that is larger, for the most flattering hue usage.
A blazer or double-breasted jacket with non-matched shorts looks great for fall or spring. Keep the colors muted and the shoes closed-toe for fall, and opt for lighter materials and peep-toes or wedges in spring.
Fall is a great time to pair a long sweater with loose, mid-thigh shorts (not a great example above). Belt the sweater at your natural waist, and pair with tall boots. You can try tights for an edgier look, but it's not for me.
Have fun, accessorize, and flatter your figure!
Cheers,
Hayley