It was this weekend, visiting the family for Easter, that I saw
something
on the way to church that made me think what I previously considered impossible: Vera Bradley has gone too far.
The shape of this tote is fine. It's the patchwork arrangement of different Vera colors in a Vineyard Vines fashion that makes me upset. Is no one creative anymore?
I am a huge fan of the Vera totes, duffels, even iPod cases and especially the make-up cases. Glasses and checkbook cases are passable, but curling iron cases? Book covers? There is a time when you can overdose on floral/paisley/geometric quilted cotton.
The Good
Villager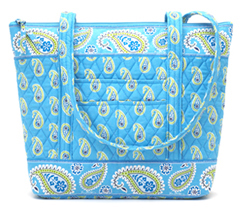 Spacious, lots of pockets, great size. The perfect diaper/school bag.

Bucket Tote

Slightly smaller of the totes, the bucket is less cumbersome and the thinner straps and curved top make it comfortable to carry for hours.
Tie Tote
Again, a smaller and more lightweight tote, but this one has room for files and papers if necessary. Too bad it's getting discontinued.
Classic tote
A great, roomy bag, and the most affordable of the acceptable Vera bags. Great for your gym clothes, use as a school bag or running to the market for a few things.
Duffel Bags
The different sizes make choosing easy, and they run from 1-night size to 4-night (or in summer, 5-night) size. Durable straps and flexible, so you can really squeeze stuff in there.
Dog leashes/collars
Some people will be surprised to hear me say this, but I find Vera dog leashes and collars cute and somewhat subtle. Vera-sporting pups are less ubiquitous than their two-legged owners.
Make-up/Jewelry Cases
The perfect size for a jewelry addict like me, and has lots of inside pouches to keep you organized. If you pack light, doubles as a make-up case.
The Iffy
Aprons
Definitely unnecessary, especially in the daughter version, but I imagine the patterns are forgiving with stains, and if a cute floral pattern makes you want to cook more, then go for it.
Writing Paper
If it's in a subtle pattern, or you only use it for notes to yourself or shopping lists, these can be OK. But if you're going to use the full-out stationery set to send to others, restrict it to family and close friends. Professional thank-you notes should be clean-cut and simple.
Checkbook Cases
I find these cases make my checkbook a bigger unit than I'd like it to be, taking up too much room in whatever bag I'm using. And again, they're just overkill.
iPod cases
These can be cute for the beach and mall, look good and brighten up your 'pod. But at the gym they look somewhat out of place, and the price is a bit high.
Headwear
I suppose the mod florals would make cute headbands, but any pattern that screams "Vera Bradley" should be avoided, just to keep one from looking like a fashion victim. More negative points if the headband matches the bag. Same goes for scarves.
The Bad
Area Rugs
Come on now. Really???
Rolling Luggage
I can't imagine the quilted cotton is durable enough to survive modern day airports, and while it may be easy to find on the belt, I can't help but feel that anything more than a solid, simple suitcase is trying too hard. Especially in a blatantly summery pattern.
China
Ugh... china, ideally, should be inherited and in some kind of an ivory or white. You can't help if Great Grand-mummy had ostentatious taste, but at least that offers an explanation for Baroque china. There's no excuse for Java Blue dishes, especially on your registry.
ID holders
Every woman over the age of 15 should carry a bona-fide purse. Besides, the ID case tells me, "I'm too cheap or too broke to push for an actual purse-like item, so I'll get the cheapest thing in Hallmark just so I can participate in this trend."
Small purses
I believe a lightweight, floral tote in spring/summer/fall is a true classic, which is why I own four. But a standard-size purse should be leather or high-quality canvas. Vera's purses like the one above look too utilitarian and Midwest-mother to me. Spring for the Coach.
Curling Iron holders
Another example of excess with the Vera. I don't know anyone who uses their curling iron, then must immediately pack it in a bag which will require a heat-safe case, often enough to merit this purchase. This is what people put on eBay when they realize they bought something useless and didn't save the receipt.
Bible covers

No one needs quilted cotton to feel closer to God. I could see a book cover used for a journal perhaps, but really, Vera Bradley doesn't need to enter church.
Some might disagree with me on some of these items, but the truth is, money talks. And it tells those dolls in Indiana that label-conscious, conspicuous shoppers around America will buy any scrap of floral quilted cotton if it's in a tell-tale pattern and gives them a chance to show they are aware enough and financially stable enough to waste disposable income on a $22 Treo case. So women of the States, especially in Connecticut, where preppy sells, practice moderation with Vera Bradley the way (most of) you do with chocolate, wine and brie.
And for the love of God, only one Vera piece at a time. At any time.