The second Sunday in May is around the corner, and in true Hallmark fashion, we are being inundated with messages to get our mamas exorbitant gifts for this holiday, from ostentatious jewelry to even cell phones.
I can't speak for all, but my mother is a great lady. She raised kids well, taught me everything I know about manners and etiquette, taught me how to cook, and kept us from getting out of control. (Well, of course, except for my 10
Th
grade punk phase, but no harm done.) At this point in my life, being able to afford something besides a handmade card and bottle of lotion, I'd like to do something special for Mummy, which is neither cliche, nor boring.
First, the gifts to stay away from:
1) Baskets from body care stores. Unless you want her to know how little thought you put into it.
2) Jewelry, especially if you've done it for other holidays. Yes, all women love a little something from Tiffany, but again, Mothers' Day is about appreciation, not dollar signs.
3) Gift cards. You can do better.
4) Self-improvement books and the like. You want to celebrate Mom, not tell her how to improve. At least not on this day.
Now, some ideas that are thoughtful and pretty easy:
*1) Tickets to a game, show or concert. This is hard to pull off as a surprise because of scheduling, but it's worth breaking the surprise, because the gift is time spent together. Also gives her something to look forward to. For my mother, it's the Mets or the Philharmonic. For yours, it might be the Sox or
Wicked
. They're all great.
*2) Books. Sound boring, but not if done thoughtfully. If she likes to read, surprise her with an early edition of
Persuasion
, or the complete works of Dickens. Cookbooks are also great, as are guidebooks if she has a trip coming up, or little paperbacks to go with other presents.
3) Spa treatment package. A little more expensive, but of all times to pamper Mom, it's now. Go in on something luxurious with relatives, or if you're pinching pennies, a mani/pedi gift certificate goes a long way.
And now, for my favorite kind of presents, the creative and most thoughtful.
1) Scrapbook, or another creative project. For her birthday last year, I scrapbooked the trip her and my dad took to Italy, and included a DVD of the pictures as well as a regular album of all the shots that didn't make the cut into the scrapbook. It takes time, but if you like getting crafty, steal Mom's memory card, and commemorate something special for her. Especially if, like my mom, she wouldn't take the time to do it herself. Similar ideas: photo collages, decoupage, matting/framing enlarged photos and shadow boxes.
2) A day together. Book a Saturday to spend together where the day's events and expenses are on you. Examples: lunch and a museum, mani/pedi followed by a flower show and dinner, or even a day at the beach where you pack extra-special lunches and rent a cabana. Similar to getting tickets, but takes less commitment and is more flexible.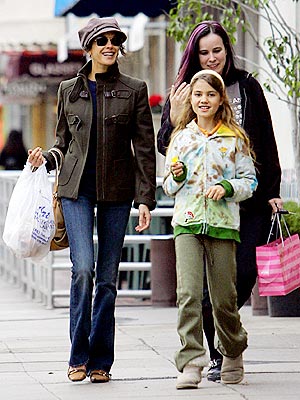 3) A theme gift, presented in a pretty way. This is what I will probably do. Decide on a theme or idea that Mummy loves, and gather a number of useful, thoughtful gifts and a themed container for them. But no crap and no fillers! Everything must be pretty, useful, interesting, delicious, or a combination of those. Theme ideas: Gardening (clogs, tools, bulbs, seeds, tulip bouquet, and a vase packed into a basket), Italy (pasta, sauce, cheese, cookbook, wine, Andrea Bocelli CD, framed photo, packed into a basket), the Beach (flip flops, big fluffy towel, beach books, sunscreen, hat, Nalgene, picnic pack, all put into a Bean Boat-n-Tote, monogrammed of course). The general process is below:
1) Collect themed items to determine basket size, and buy a big basket at Michael's or AC Moore. Oval shapes work best for this.
2) Collect decorative stuff for the basket, like flowers, flags, seashells, ribbon, knick-knacks and anything that will make it look festive. Be sure to buy a ribbon to sub in for wrapping paper, and get 2 bags of "hay," or a few packs of tissue paper.
3) Do a "dry run." Put everything in the basket without the hay, putting tall and large items in the back, cascading to smaller ones in front. Try to make everything as visible as possible, and don't pile - stuff.
4) Once you have an idea how it'll all fit, take the items out and spread hay in the bottom of the basket as a base. Then use more to prop up items as needed. Put everything back in the basket, and if need be, use scotch tape to keep small items in place.
5) Fill out your card, and find a place to slip it in where it won't obstruct anything major.
6) Tie ribbon (REAL ribbon!) in a bow on the basket handle, or if yours doesn't have one, weave it through the branches of the basket edge and tie in front.
7) If you fancy, add cellophane (clear only, please). This can be bought at any craft store. Cut a HUGE square, lie flat, and place the basket in the middle. Cut a piece of ribbon and hold while you gather. Gather up the corners evenly, to create a "ponytail" of cellophane at the top middle. Tie the ribbon tightly in a bow (use a rubber band first, if you like), then trim the cellophane so the pouf isn't too big.
There you go! It's not as hard as it sounds, but it does take some shopping and assembly time. Just make sure the gifts are worthy. Don't grab a mini Eiffel Tower if Mom doesn't want one, unless it's really cheap and decorates an already magnifique Paris basket.
Good luck with your Mothers' Day shopping, and remember, thought and creativity trumps money and quantity every time.
Cheers,
Hayley