Carrie Bradshaw uttered those words of truth in one of my favorite episodes of
S&TC
, "The Baby Shower." As a woman in my mid-20s, I am slowly gaining more events on my yearly calendar dedicated to the pairing-up and popping-out of friends and family. Especially in the months between April and October, we young, single women seem to get inundated with hand-engraved invitations from Crane & Co., requesting our presence at the event which is centered around a goal we have not yet attained: a lifelong commitment to a good man, a sparkly ring, champagne flutes with strawberries in them, and maybe even a starter home.
And all the while, we sit, kneel, stand, pray, bow our heads, smile, bring extravagant gifts, get dressed to the nines, and profusely congratulate the happy couple and their parents. We couldn't be happier for them.
But there is something about attending pre-wedding events that makes me ask myself a few questions. Will others be so kind to me when my time comes? Is the gift lacking in thought because it came from the registry? Will
I
become a tyrannical bride, enforcing the dreaded French mani/pedi and throwing pastel taffeta on "my girls?" Will this friend be pregnant by the time I get married?
There's nothing like a peer getting married to force you to reassess your life. For those of us who aren't yet walking down the aisle, and are in no hurry, there's nothing like a bridal shower and bachelorette party to make you at once both happy and frustrated about being single. And those are two events which I am attending for a college friend tomorrow, in the same day.
So what's a single girl to do? Two things.
1. Do not have a pity party. Embrace your freedom, because the girl holding the ribbon bouquet will be yearning for it in about 7 months.
2. Wear something
fabulous
to both events.
First outfit to pick: the bridal shower
Time: 2:00pm
Location: apartment in Brooklyn
Bridal showers are a tradition in which females shower the bride with gifts for the home, eat unsatisfying finger sandwiches and, according to this invitation, drink wine. So the outfit I pick will be pretty, comfortable, not too ladies-who-lunch, and involve flats of some sort. Gotta save the heel-feet for later. Here's my choice for the shower:
Gap lavender shirtdress
My brown/camel leather hobo purse from Paris (this is the closest approximation I could find)
My neutral Jack Rogers sandals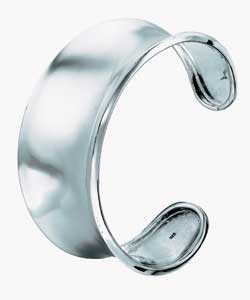 Silver cuff, to be worn with pearl studs
Second outfit to pick: the Bachelorette Party
Time: 7:00pm for dinner
Location: Prohibition, a swanky lounge/restaurant in the city
Bachelorette parties are my favorite part of all weddings I attend, because everyone can and should get crazy to encourage the bride. Plus, the bride is usually wearing a goofy
checklist tee-shirt
and veil, and while some
sketchy guys
might make a play for her because she's off the market, and they want to give her "one last party," in my experience, the bride's companions fare well too, because they are dolled up, having fun and actually single (some at least).
The B-Party has many more considerations than the bridal shower. Sitting for too long is replaced with lots of dancing and walking, tea and wine is replaced with shots, and there is no official expiration time for the party. And in my experience, if the bar tries to expire your party, there is always someone willing to help you extend it. So what to do?
Well, you first have to be somewhat comfortable, because bra-crawling may happen, and if the bride has too much fun, you might end up babysitting. Second, and most important, you have to dress to show you are happy to be single, have many more wild nights ahead of you, and aren't at all jealous of the girl with the condoms on her head.
Basically, you need to do what T tells Mikey in
the greatest film of all time
: "There's nothing wrong with letting them know that you're money, and you're ready to party."
Now, if you're unlucky in life and/or have accumulated negative karma, a pushy maid of honor may force everyone into a dress code that is as unbecoming as her ceremony dress. In my case, all that's asked is that we wear an LBD, or cute all-black ensemble. I loves me a black dress, and it gives the ultimate opportunity for accessorizing.
Here is a dress similar to what I'm wearing:
Cotton, comfortable, (mine is actually 3/4 sleeves) and draws attention to my face, collarbone, and the Girls.
I'm wearing my hair straight to the shower, but will put the iron to it at the hotel for Rachel Bilson-esque loose waves for ultimate sex appeal.
Now the shoe debate. The shoe I know I
should
wear is my brown/tan peep-toe wedge, similar to the D&Gs below, but not quite as high in the platform. They will be more comfortable for walking, and more stable after too many Key Lime martinis.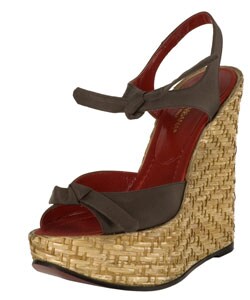 But the shoes I
want
to wear are my peep-toe stilettos, in black. They're not quite summery, and definitely less comfortable than the wedges. Given the location which I've never experienced and the opportunities for running around NYC, I will probably play it safe and opt for the shoes above, saving the pumps for my next date.
For a purse, I'll be complementing the browns in my shoes with my bronze snap-top clutch, similar to the slouchy one below. Sorry for the unusually long picture!
As for my jewelry - well, I'll be honest. I'm going to pack half my jewelry box (which is a lot) and end up wearing whatever appeals to me that night. Given the bronze clutch, the jewelry will be of warm metallics, but I'm thinking big earrings, big cocktail ring and no necklace (skin can be a great accessory).
My brunch outfit for the next day? Probably jeans, a polo and flops. I'll be too tired to care.
So the purpose of this post (besides me nailing down what I need to pack, like, now) is this: embrace these celebrations of others' success in love as an opportunity to celebrate your independence and freedom. Much like the 4th of July. It's an opportunity to get down, congratulate your friend on finding The One, and welcome that congratulations as an excuse to get buck-wild with no shame. And if you dress like the sexpot you are, you become it. And the gentlemen will notice.
Next post: what to take out on such a night, and how to fit it into a tiny purse.
Cheers!
Hayley