Think about the style icons you admire. For me, they are Carla Bruni and Rachel Bilson. Most women that we girl-crush on for their taste and look have a personal style. They know what they like, what looks good and what they feel good in, and they stick with it. Ideally, we would all use those guiding principals when we're out shopping, and when we're standing in a bra in front of our closet trying to put an outfit together.
But have you ever felt like you were digging a few different looks, and couldn't figure out what you liked best, or what was the best combination for you?
You'll find stylists on HGTV and TLC giving people style monikers that are double-word labels, meant to encompass everything in their wardrobe. For example, "urban chic," "modern bohemian," and other annoying phrases. I've tried to articulate what my personal style is, but I always feel caught between at least three different looks. I guess having a varied personal style isn't a tragedy, far from it, but how do you curtail overbuying and keep a dignified look when you want to dress in four different directions every day?
Here are the looks I love, and wear on different occasions, but don't know how to meld into one cohesive closet:
The Lady Proper
shift dresses
peep-toe heels
pearls
tailored pants
pencil skirts
Preppy Classics
cable-knit sweaters
Oxford shirts
boat shoes
monogrammed polos
printed totes

21st Century Hippie
distressed flare jeans
loose blouses
love beads
long cardigans
leather sandals
I suppose Carla and Rachel mix all of these at times... They seem to make it work.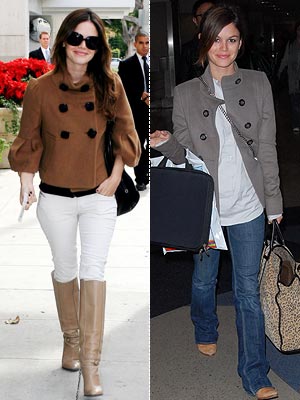 But no matter what I like, I definitely know what looks I don't like:
bohemian (ethnic patterns, feathers, fringe)
edgy (Agyness Deyn, I'm lookg at you)
80s the sequel (leggings, Converse and oversize tops)
suburban splendor (Juicy, Coach and Uggs, just die)
rocker chick (peep-toe booties, Ed Hardy tee, cropped bomber)
Brooklyn hipster (bright colored jeans, Wayfarers, a PBR)
What are your style personalities?