Let me take you back to my high school days. For the record, I graduated in 2000. I was a "smart girl," who played flute, wrote for the yearbook and newspaper, was in drama club, played softball, volleyball and did swimming, was learning how to sail, and hated the taste of beer, but pretended not to at parties.
More than all of these things, I was proud of being a good girl. My parents instilled in me good manners and ladylike habits. My skirts were not tiny, my language was not foul, and I was lucky if I could sneak mascara past my mother in the morning. And I shopped at Abercrombie and Fitch. I loved the great quality of the wool, corduroy and cotton; I loved that I could find clothing there that met code; I loved the classic tailoring and conservative cuts; I loved that everything matched with everything; I loved the spanking-new style of sweatpants that weren't tapered and closed off with elastic; I loved the tee shirts that got more comfortable with each wash.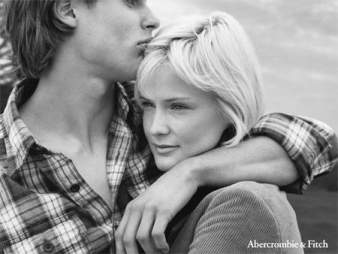 The clothes of Abercrombie were everywhere in my school in the '90s, but keep in mind that I grew up in Connecticut. This was normal for us, and I never figured that style would ever become mainstream. At times, I yearned to run out in denim cutoffs, a tube top and platform sandals, to be a bad girl just for one night, and maybe even look a little dangerous. But I never did it, because after some experimenting in the privacy of my room, I realized I never felt more comfortable or confident in anything besides my trusted A&F wardrobe. Rugby tops, ripstop pants, Oxfords and cotton skirts - how could it get any better?
I brought my huge A&F wardrobe away to college with me, and noticed that it was a popular uniform for many fellow students. We looked just like the students in the college brochures and Abercrombie quarterlies - walking to class with layered sweaters, crisp khakis, moccasins and shoulder bags full of books. I was proud of wearing clothes that lasted a long time, looked good, felt good, and made me look like the classy co-ed I wanted to be.
Around the fall of my sophomore year, Abercrombie and Fitch began going overboard on the distressing of all their clothes - jeans, skirts, tees, even polos. I wasn't a big fan, so I stopped buying new stuff and kept wearing what I owned. It was, and still is, timeless. But then, between sophomore and junior years (around spring/summer 2002), I noticed a huge change.
Abercrombie went skank.
When I visited my store in mid-2002, I attributed the miniscule skirts, tanks and dresses and skin-tight tees to the warm weather. I thought the bright colors would fade when the mercury dropped. But come September, I was annoyed - the skank look had taken over.
Every tee shirt - so tight you could see a bra through it. You could see the bra
seams
through it. And they were frayed, and splashed with double entendres and phallic imagery. Every sweater - dried and shrunken and spandex-ized within an inch of its life, revealing every bump and not even keeping you warm. You could see bras through those too! Every pair of shorts - 3" inseam. At most. Every fleece hoodie or sweatshirt - glittery logos and tight fit. Every pair of jeans - $90+ and looking like something from Baby Phat. And gone were my beloved peacoats, in were cropped, fur-lined puffy jackets that keep no one warm and are meant to show off the painted-on jeans with holes in the butt.
I was totally fed up. This change was echoed in the marketing too. The shirtless dude getting paid to hold a football and say "Hey" to the customers coming in? The floor-to-ceiling black-and-white photos of six-pack abs? The girls who look you up and down as you enter, waiting to determine if you're worthy of their customer service? The overwhelming amount of A&F cologne pumped into the air? It's just too much.
I tried finding images of old A&F clothing to share, and couldn't. I couldn't even find them on eBay. It goes to show you - the Abercrombie of my youth in the '90s, innocent Abercrombie, athletic Abercrombie, ivy Abercrombie... it's gone. But it had a great run, and you wouldn't belive it... but I still have my charcoal 3-button peacoat in my closet, good as new. I guess they don't make things like they used to.
Hayley